We are hearing from the field that some consumers are under the impression that R22 units cannot be operated or cannot be repaired as of Jan 2020. This is simply not true.
THE FACTS ABOUT R-22 IN THE U.S.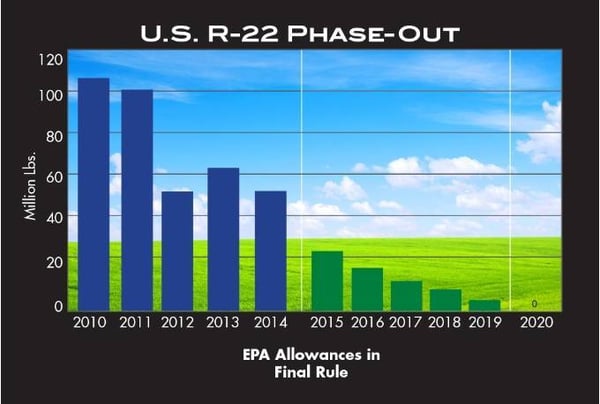 R-22 is the most widely used HCFC refrigerant for HVACR applications, such as residential air conditioning, refrigeration, and other cooling applications. Although R-22 has been a good solution for many different applications, it is classified as an HCFC and is subject to phase-out, according to the Montreal Protocol international treaty and the Clean Air Act in the United States.
In the US, the Clean Air Act has met the requirements of the Montreal Protocol by limiting consumption of HCFC, including R-22, through a series of phase downs through 2030. Each step reduces R-22 consumption by reducing or eliminating R-22 in different market segments. As part of this phase-down, R-22 has not been permitted for use in new HVAC equipment since 2010.
You do not need to purchase a new AC unit.
The EPA recently issued the final HCFC Rule, which covers the 2015 to 2019 R-22 production allowances. After 2019, importation or production of R-22 will not be permitted in the United States, however it can still be purchased, used, and sold from existing inventory and reclaim. R-22 is still the best refrigerant for R-22 equipment, and R-22 users should review all their options before making any major changes to their R-22 equipment.
R-22 phase out and the myths surrounding its use under the Montreal Protocol.
FACT 1: R-22 is readily available.
FACT 2: R-22 will be available for years to come.
FACT 3: R-22 pricing has decreased, so consider the high cost of replacement.
FACT 4: R-22 is still the best choice for R-22 equipment.


Source: Forane
Still have questions?
Call us at 513-574-0025.