Do I need a plumber to replace my kitchen faucet?
December 22, 2022 •Reid Geiler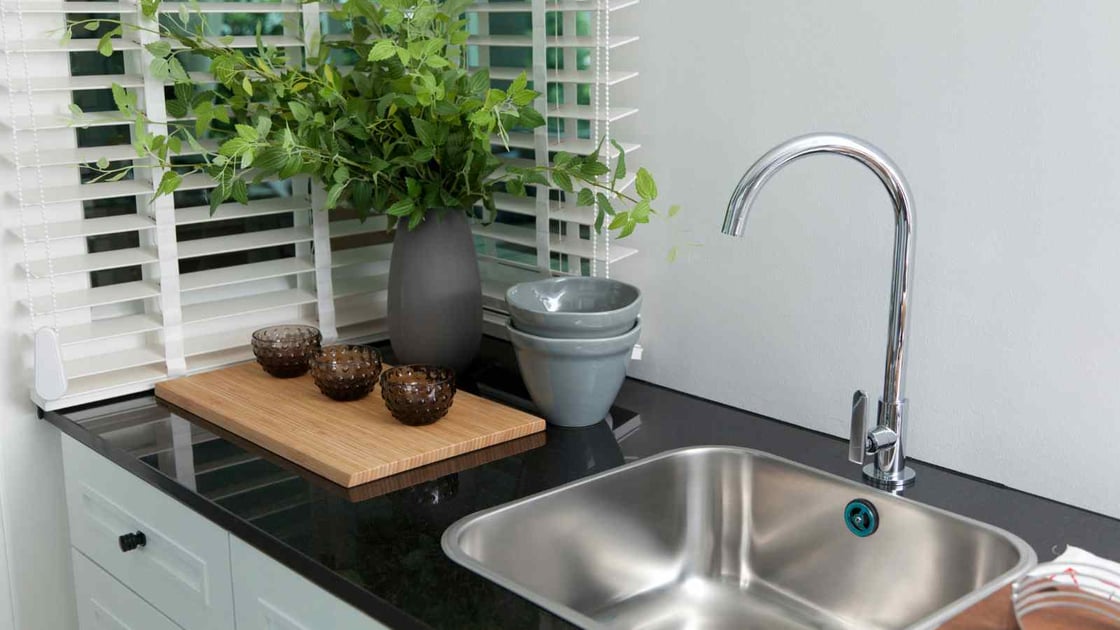 Undoubtedly, the kitchen is the heart and soul of your home. It is where you cook delicious meals, catch up with your family and entertain guests. So when the faucet on your sink has leaks, low water pressure, or other problems, it can damper your kitchen experience.
And you might wonder, "Do I Need A Plumber To Replace My Kitchen Faucet?"
Let's explore some common issues that can arise with kitchen faucets and how to best address them, as DIY projects or with professional help.
Leaky Faucets
Leaky faucets are problematic! Not only do leaky faucets waste valuable water resources, but they can also drive your water bill up. However, depending on the size of the leak, you can troubleshoot and fix it yourself. Areas where faucet leaks can spring up include the O-ring, the valve seat, or the water lines.
The O-ring is a rubber ring that seals two pieces of metal together. This component can wear out over time, causing water to leak through the spaces. Either removing and replacing the O-ring or applying lubricant might fix the problem.
To inspect the valve seat, remove the handle and unscrew it. If there is a buildup or damage to the seat, you can either clean it or replace it.
If the water lines require some work like if they become disconnected, calling a professional plumber is a smart idea. These professionals have the expertise and specialized tools to make repairs. Doing so can help to avert any further damage and is the best way to ensure that the job gets done correctly.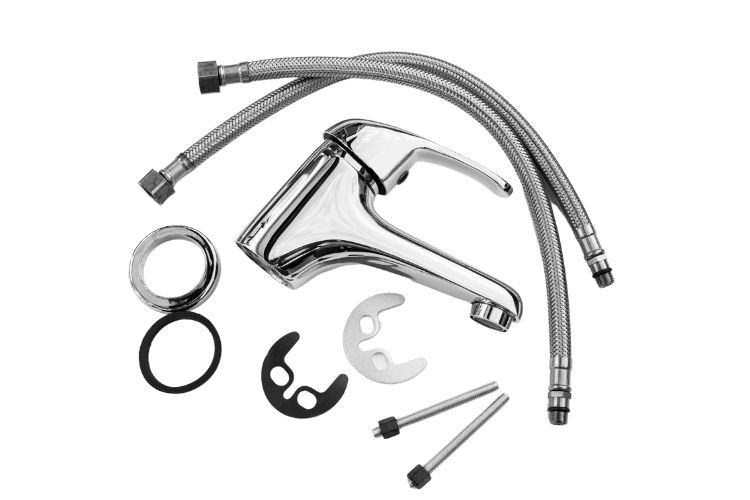 Loose Components
After a lot of use, sometimes faucet handles can become loose. Whether you have a ball faucet, disc faucet, cartridge faucet, or compression faucet, this hardware can be tightened and secured.
You can take off the handle and tighten the nut underneath it with an adjustable wrench for a ball or disc faucet. If your faucet has a cartridge, replace the worn components with new parts using the manufacturer's instructions for installation. For compression faucets, use pliers to tighten the packing nut underneath.
But remember, before doing any plumbing, exercise caution by turning the running water off and double-check that you have the right supplies, parts, and tools to carry out the task.
Low Water Pressure
If your kitchen faucet is experiencing low water pressure or fluctuates between high and low pressure, you may need to check the connection between the faucet and the water supply line. Potential issues that could contribute to low water pressure include:
A water shut-off valve that is not wholly open
A clogged faucet aerator
An obstruction in the supply line.
Water shut-off valves are typically beneath the sink, and they need to be in the fully open position. Any other position will cause a restriction and reduce the pressure.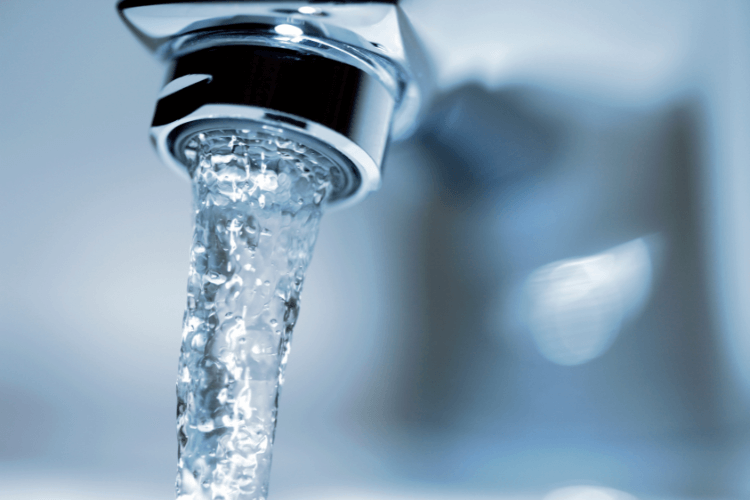 The faucet aerator is a disc with tiny holes that can become clogged with sediment over time, preventing water from flowing adequately. To clean it, unscrew it and soak it in white vinegar or CLR for about 15 minutes, then rinse it with water. If the aerator is beyond repair, you should replace it.
An obstruction in the supply line might result from a broken or corroded pipe. Other causes could be sediment buildup or a foreign object inside the line. While this plumbing issue may not be a problem affecting your kitchen faucet, it does create a blockage in the pipes, which can reduce the water pressure.
No Hot Water
It's easy to take the availability of hot water for granted, but when it suddenly goes cold, it can be quite a shock! There are reasons that a kitchen faucet might experience a lack of hot water, including:
A faulty thermostat on the water heater
The pilot light is out
A broken water heater
Generally, when you move your kitchen faucet to the "hot" position, the thermostat kicks in, allowing hot water to flow. But if the thermostat is faulty, you won't be able to access any hot water. In this case, you should have your thermostat checked and replaced by a professional plumber.
Alternatively, all faucets will run cold water if your water heater has gone out entirely. Sometimes, a faulty pilot light is an underlying problem, and you can re-light it yourself. But if the water heater is beyond repair, you should call a professional plumber to evaluate the situation and recommend the best corrective action.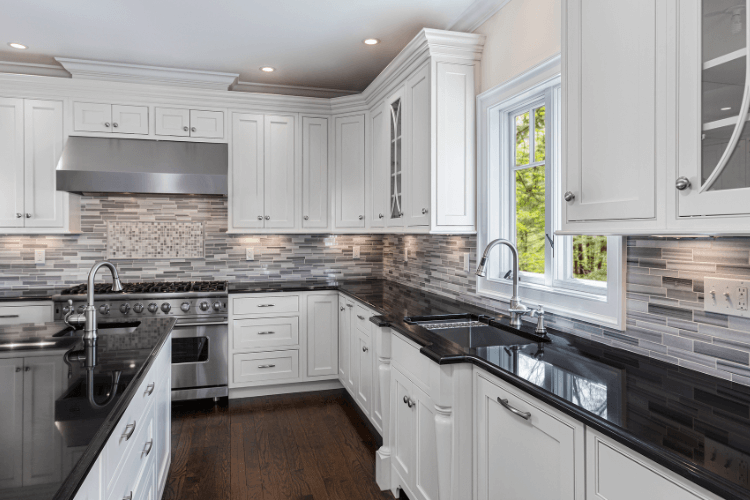 Kitchen Upgrades
Not surprisingly, homeowners making kitchen upgrades often decide that updating their faucets is the perfect finishing touch. Whether you're looking for a modern look, more functionality, or both, more options are available.
New components like pot fillers and wall-mounted faucets are becoming increasingly popular in kitchen designs. While they may seem like easy additions, these products involve complicated plumbing connections and require expertise to install correctly.
No matter what kind of kitchen faucet you choose, a professional plumber is needed to ensure the job gets done correctly. An experienced plumber will ensure that your new faucet has proper installation, gets sealed, and inspect existing plumbing for any underlying issues that could present problems sometime in the future.
Do You Need A Plumber?
In some cases, kitchen faucet repairs can be DIY projects. For instance, changing out the O-ring, cleaning the valve seat, and removing a clogged aerator are all relatively easy tasks. However, knowing your skill level and having the right tools to diagnose and make repairs is essential. Without these core tools, there is room for error, and you may end up causing more damage to the faucet.
In conclusion, whether you're looking to make repairs or upgrade your kitchen faucet, it's essential to have the proper tools and knowledge required for the job. Without them, it's best to call a professional plumber to ensure the best fix.
So why cause trouble for yourself when you can call in the experts at Geiler.com, serving clients throughout Greater Cincinnati, Northern Kentucky, and Southeastern Indiana since 1885?