3 ways duct cleaning reduces allergy symptoms
We've been discussing indoor air quality. Recently, we reviewed five pollutants that cause indoor allergies and what to do about them. Today, we dig a bit deeper and consider what benefits duct cleaning provide, especially for those who fight allergies.
Think about the fall season. It's a wonderful time of the year in Greater Cincinnati. The weather is typically dry and pleasant. And after being cooped up all summer with the air conditioning combating the hot summer weather, it's a great chance to open up the windows on those comfortable days and cool nights. It's a chance to enjoy a comfortable night's sleep and save a little money on cooling costs.
But it can be a different story for the up to 60 million people that are seasonal allergy sufferers who sneeze, have itchy eyes, and in general just feel bad. Relief comes in the form of that first frost and hard freeze. But the bane of allergies can live on into the colder months in an unexpected way: the inner workings of your own house.
Thinking back to those comfortable fall days with the windows open, what you may notice after a day or so is that film of dust, pollen, mold, and allergens of all kinds that blow in the house and settle in all the surfaces in your home. These are easily removed with a gentle cleaner and a cloth. But, what about the surfaces in your home that you can't reach?
We're talking about your air ducts. And if you've been in your home for five or ten years, just imagine all of the allergens that have accumulated in them. It's time to act and duct cleaning can help. Here's how: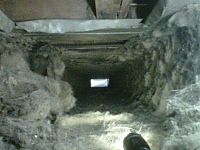 Duct cleaning reduces pollen and mold
For most of the year pollen is part of our daily lives. During the spring and autumn allergy seasons, pollen can make it tough to function. Fortunately it's not always at a level that causes allergy symptoms but pollen accumulates in the ducts and can be blown throughout the house when your system activates.
For most, the thought of mold in your air ducts isn't the first thing that comes to mind. But it's a fact that it resides there. Under the right conditions it can grow as well. Duct cleaning can help eliminate unhealthy mold in your HVAC system.
Duct cleaning reduces pet dander
Pets are people too! And just like us, they shed their coats and their skin. Pet dander is a significant allergen that, unlike other allergens, originates from inside your home. Over time this is circulated into your HVAC systems and accumulates.
Duct cleaning reduces the presence of dust, dust mites, and other indoor pollutants.
Over the course of a decade, no matter how meticulously you or your housekeeper maintains the cleanliness of your house, dust and other airborne pollutants hitch a ride into your duct work via a breeze or your children entering after playtime. Duct cleaning can help remove these from your house.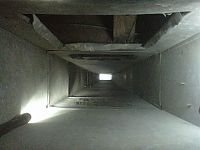 Get the Job Done Right
It's important not to blow all of the allergens back into the house so you'll want to make sure you have our professionals performing your duct cleaning.
Most of all, you'll want the peace of mind that comes along with knowing your family, children, and pets are safe and enjoying clean and healthy indoor air.
Visit our Indoor Air Quality page.